Become a Partner
Are you interested in promoting an offer on the Days Out Guide?
If so, we'd love to hear from you!
The Days Out Guide is a National Rail programme which has been running since 2002. In 2016 alone over one million people redeemed vouchers at participating attractions, with this number growing each year.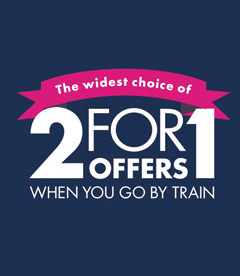 How it works
The purpose of the 2FOR1 scheme is to promote travel by train to visit Britain's great attractions to the UK domestic market!

The promotion mechanic for 2FOR1 offers is simple. The customer simply needs to:
Fill in a 2FOR1 voucher from a station leaflet or online at daysoutguide.co.uk
Travel by train- that's a must do!
Present a completed 2FOR1 voucher with two valid train tickets at the chosen attraction (or book in advance where required)
Click here to download a guide to valid rail tickets and Days Out Guide vouchers >>
Once visitors have handed in their voucher, all we ask is that you keep them and return them to our freepost address (below) on a monthly basis. This enables us to measure the success of the promotion.
Freepost RUCX-BZLG-KHYB
Days Out Guide Office
Zeus
2 Tally Close
Pendlebury
Swinton
MANCHESTER
M27 8WJ
Click here to download the FREEPOST artwork
What next?
The biggest thing you need to considering when looking promote your attraction on the Days Out Guide, is how easy it is for visitors to get to your attraction by train, as a crucial element of the promotion. If your attraction is a short walking or bus distance away from a Rail Station, then great!
Become a Partner
Becoming a partner is easy, simply click the link, fill in the form and wait to hear from us.
Complete Form & Become A Partner
Your submission will be reviewed and we will be in touch in 14 working days to confirm if we can have you listed on www.daysoutguide.co.uk