Ripley's Believe it or Not! London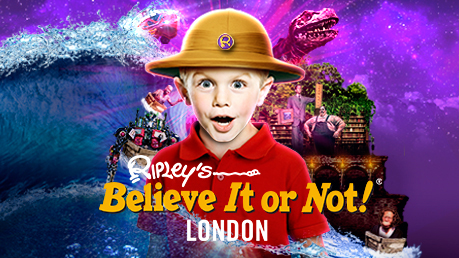 Theme & Adventure Parks
Ripley's Believe it or Not! London
Admission:

Adult: £29.90


Offer Expires:

Location:

1 London Pavilion, Piccadilly Circus, London W1J 0DA

Phone number:

020 3238 0022

Nearest Station:

London Charing Cross
Book your 2FOR1 Fast Track entry exclusively online with Days Out Guide and Ripley's Believe It or Not! London. 
EXPLORERS WANTED!
Take your imagination into uncharted territory with three amazing experiences under one roof and discover the UK's most extraordinary adventure at Ripley's Believe It or Not! London.
Follow in the footsteps of intrepid adventurer Robert Ripley and explore six oddity-packed floors crammed with countless curiosities, amazing artworks, rare relics and interactive experiences inspired by his world famous collection.

Situated in the heard of London's West End, you'll enter a world where the bizarre and the unbelievable come to life and where amazement is waiting around every corner. Whether it's an actual chunk of the Berlin Wall, our Amazonian shrunken human heads, a life-size Ferrari knitted from 12 miles of yarn or a King Henry VIII's shoe, there are mind-boggling wonders for even the wildest imagination.

For those with an appetite for adventure, see if you can escape London's largest Mirror Maze Mirror Maze, embark on a 'Mission Impossible' style challenge to defeat the Impossible LaserRace and venture into the Black Hole spinning tunnel!
Click on the BUY ONLINE button on this page to book fast track advanced tickets.
Online ticket is £30.90 and includes: 
o  Entry for two persons of any age to Ripley's Believe It or Not! London
o  Fast Track entry into Ripley's
o  Ripley's Believe It or Not! guidebook
o  £1 booking fee*
Visit website
Show more information >
Attraction Savings
Savings:

£

Price after savings:

£
Map
Directions
Opening Times
FAQs
Map
Key:
Nearest Station
Local Attractions
Hotels
Theatre
Local or destination train station
{{$index+1}}

{{station.title}} {{station.distance | number:1}} miles
Directions
The London Pavilion
1 Piccadilly Circus
London
W1J 0DA
Opening Times
Monday

10.00 - 23.59

Tuesday

10.00 - 23.59

Wednesday

10.00 - 23.59

Thursday

10.00 - 23.59

Friday

10.00 - 23.59

Saturday

10.00 - 23.59

Sunday

10.00 - 23.59