Britain's parks & gardens are buzzing with excitement!
Britain's parks & gardens are buzzing with excitement!
Tomorrow, Saturday 20 August, is world Honey Bee day! With a little help from Friends of the Earth, Wikipedia and Thinkstock, we've built the most fantastic version of bingo for the buzziest of kids! You can play this anywhere - in your garden, in one of Britain's amazing park spaces or public gardens, or Kew Gardens whilst you're out enjoying a 2FOR1.
The rules are simple: spot the bees, insects and plants to get 5 in a row across the hive. Beware of those pesky importers - two other insects that look very similar: the wasp and the hoverfly. 
So prepare with a marker or some sticky dots, print out our bingo board and make sure mum packs some prizes - let's have a sweet time in the sunshine! 
Simply download the PDF bingo board by clicking the image below.
Remember not to get too close, or agitate them - we don't want to get stung! 
It's not just this one day that you can help save the bees! Find out how you can help all year-round at http://www.wildlifetrusts.org/bees-needs or https://www.foe.co.uk/
Here are just a few of the places we recommend for optimum bee-spotting!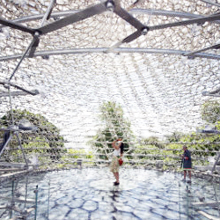 New at Kew: The Hive! An award-winning design by British artist Wolfgang Buttress, which was the creative interpretation of the theme 'feeding the planet, energy for life' for the World Expo 2015 in Milan (1 May to 31 October).
Explore the wide open spaces, lakes, ponds and gardens that are home to exciting wildlife at this urban oasis. Watch birds from six viewing hides, relax in the café and let the kids play in the adventure zones.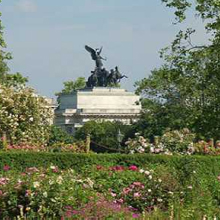 Go and see the swans and ducks, or go rowing on the Serpentine (and see the hardy souls swimming in it!), enjoy the parkland and glades for a sunbathe or impromptu game of frisbee, football or rounders, wander in the gorgeous Rose Garden, and soak up (or participate in) the lively debates at Speaker's Corner.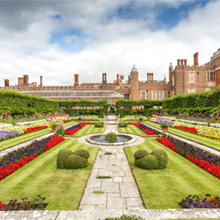 The palace gardens cover 60 acres and features sparkling fountains and more than 200,000 flowering bulbs. Some highlights include the Great Vine - planted in 1768 by 'Capability' Brown himself - which produces a yearly crop of black, sweet grapes. The 300-year-old famous Hampton Court Palace Maze comprises half a mile of winding paths surrounded by towering yew tree walls. On average it takes 20 minutes to reach the centre.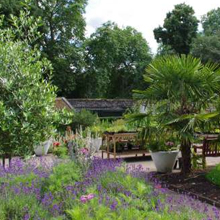 Battersea Park
Battersea Park is felt by many to be the most interesting inner-city park in London and featuring a boating lake, old English Garden and playgrounds for the kids to burn off some energy!
Cycling is also allowed in the park, and there is also a place to hire cycling recumbents, so you can sit back and stretch out while you explore at ease.
Stroll through the picturesque promenades and spot some wildlife (including herons, cormorants and glebes) and make a trip to the Peace Pagoda, a Japanese Buddhist monument constructed to inspire peace, a gorgeous vision of red and gold among the soothing green surroundings.
Wander around the boating lake (rowing boats and pedalos available to hire) and visit the Pump House Gallery (free entry), housed in a four-storey Grade 1 Listed Victorian tower on the lakeside.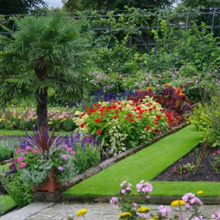 Open 06.00 to dusk every day. Kensington Gardens is adjacent to Hyde Park. Visitors can admire the sunken garden, stop for a drink at the Orangery and appreciate the paintings at the Serpentine Gallery. See the Princess Diana water sculpture.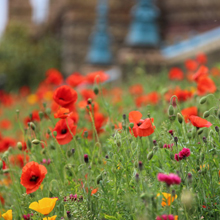 The 7 acre Alexandra Palace is surrounded by 196 acres of beautiful parkland, a year-round ice rink, a pub & restaurant, boating lake, pitch & putt course, 1,500 free parking spaces and much, much more.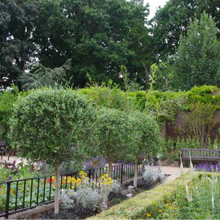 Holland Park
Holland Park contains formal gardens, recreation facilities, a theatre, art galleries and large semi-natural woodland. There is also a restaurant and cafeteria, and a celebrated Dutch Garden. An ecology centre provides outdoor educational facilities and conducts activities such as nature trails, guided walks and pond investigations.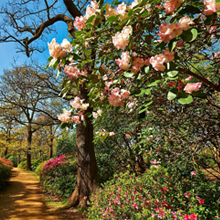 Richmond Park
Open daily from 07.30 to dusk. Richmond Park used to be a royal hunting ground. It is a home to much wildlife including red and fallow deer. Other attractions include the Isabella Plantation, Pembroke Lodge which was the childhood home of Bertrand Russell and now it is a café and the Palladian Villa.