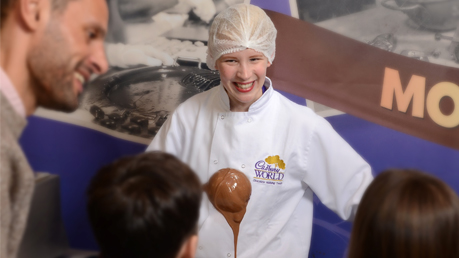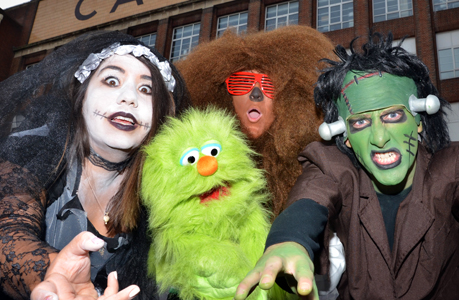 Theme & Adventure Parks
Cadbury World
Admission:

Adult: £11.72


Offer Expires:

Location:

Linden Road, Bournville, Birmingham B30 1JR

Phone number:

0844 880 7667

Nearest Station:

Bournville
Halloween Spooktacular at Cadbury World - 22 to 30 October:  Expect plenty of hocus pocus and scary surprises at the Bournville-based attraction, as it takes a spooky turn this Halloween. From terrifyingly tasty treats in the World's Biggest Cadbury Shop, including exclusive handmade chocolate pumpkins, Crunchie Spiders and Cadbury Screme Eggs, to a special themed menu in the Cadbury Café and decorations throughout the attraction, it promises to be a spooktacular week at Cadbury World this half-term.
------------------------------------
With 30% off you pay - Adult £11.72, Child £8.61, Concessions £8.85*
**Please note: To claim your 30% discount you must present your printed Days Out Guide voucher during your visit.**
Uncover a world of chocolate delights and enjoy a fascinating fun-packed day out at Cadbury World. There's so much to see and do for the whole family. From learning how your favourite confectionery is made and uncovering the fascinating story of Cadbury chocolate, to playing in chocolate rain and adding your favourite treat to a delicious pot of warm liquid Cadbury Dairy Milk. 
You'll discover the origins of the cocoa bean amidst trees and waterfalls in the Aztec Jungle, before jumping on board the magical Cadabra ride and meeting the infamous Cadbury drumming gorilla! 
Plus, join Freddo, and a whole host of Cadbury characters, as they whisk you away on an adventurous journey in a the 4D Chocolate Adventure cinema experience, complete with motion seats. Dive into a bowl of liquid Cadbury Dairy Milk, ride the Crunchie Rollercoaster and take to the skies in a Cadbury Creme Egg airship piloted by the Caramel Bunny. Hold tight!
*Calls cost 7p per minute plus your telephone company's network access charge. 

** To guarantee admission to you will need to pre-book directly with Cadbury World on 0844 880 7667* quoting the 'London Midland'. 'Virgin Trains' or 'Chiltern' offer, depending on which train company you are travelling with. Vouchers must be presented at reception on arrival at Cadbury World, along with a valid train ticket to Bournville for the required date to receive the discount.**


Visit website
Show more information >
Attraction Savings
Savings:

£

Price after savings:

£
Map
Opening Times
Accessibility
FAQs
Map
Key:
Nearest Station
Local Attractions
Hotels
Theatre
Local or destination train station
{{$index+1}}

{{station.title}} {{station.distance | number:1}} miles