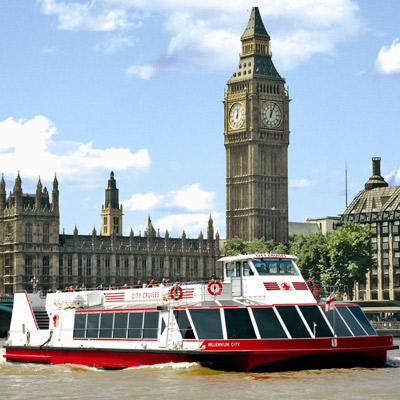 Boat Trips & Cruises
City Cruises
Admission:

Adult: £18.00


Offer Expires:

Location:

Westminster Pier, London SW1A 2JH

Phone number:

0207 7400 400

Nearest Station:

London Waterloo
2FOR1 on River Red Rover ticket
The Thames has always been at the very heart of London. Join City Cruises and you won't miss a thing when they show you the sights and sounds of 2000 years of history as you cruise through the capital.
The City Cruises fleet of purpose-built sightseeing boats give you the best views possible. From the majestic Houses of Parliament to the ancient Tower of London with its gruesome past and onto the Royal Palace of Greenwich. Along the way you'll cross the site of the first Roman crossing of the River Thames as well as passing by the tallest building in Europe. You really can sit back, relax and enjoy the views while the on-board commentary reveals all.
River Red Rover gives you complete freedom to make the most of City Cruises' regular departures by allowing you to come and go at will. Cruises depart from Westminster, London Eye, Tower and Greenwich piers every 30 minutes.
2FOR1 tickets cannot be purchased at London Eye pier.
Visit website
Show more information >
Attraction Savings
Savings:

£

Price after savings:

£
Map
Directions
Opening Times
FAQs
Map
Key:
Nearest Station
Local Attractions
Hotels
Theatre
Local or destination train station
{{$index+1}}

{{station.title}} {{station.distance | number:1}} miles
Directions
Westminster Pier
London
SW1A 2JH
Opening Times
Monday

10.00 - 17.00

Tuesday

10.00 - 17.00

Wednesday

10.00 - 17.00

Thursday

10.00 - 17.00

Friday

10.00 - 17.00

Saturday

10.00 - 17.00

Sunday

10.00 - 17.00