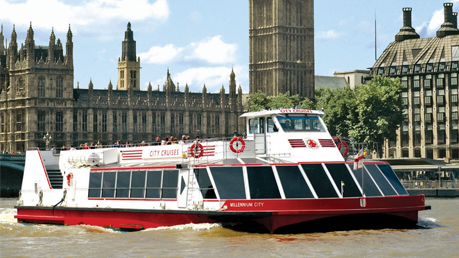 Boat Trips & Cruises
City Cruises
Admission:

Adult: £18.50


Offer Expires:

Location:

Westminster Pier, London SW1A 2JH

Phone number:

0207 7400 400

Nearest Station:

London Waterloo
2FOR1 on River Red Rover ticket
See and experience London from the relaxed comfort of a modern, all-weather sightseeing boat. Open-air decks and panoramic windows give great views of the most iconic sights in London – and the best photo opportunities! Hop on and off any scheduled City Cruises boat all day long.
Cruises depart from Westminster, London Eye, Tower and Greenwich piers every 35 minutes.
2FOR1 tickets cannot be purchased at London Eye pier.
Visit website
Show more information >
Attraction Savings
Savings:

£

Price after savings:

£
Map
Key:
Nearest Station
Local Attractions
Hotels
Theatre
Local or destination train station
{{$index+1}}

{{station.title}} {{station.distance | number:1}} miles