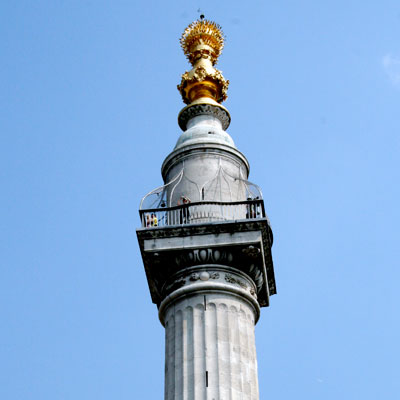 Landmarks & Historical Sites
The Monument
Admission:

Adult: £4.00


Offer Expires:

Location:

Fish Street Hill, London EC3R 8AH

Phone number:

0207 626 2717

Nearest Station:

London Bridge
As a landmark to one of the most famous events in London's history, the Monument stands alone.
Designed by Sir Christopher Wren and Dr Robert Hooke, and completed in 1677, this colossal column commemorates the Great Fire of London and celebrates the City which rose from the ashes.
Every year over 150,000 visitors climb the 311 spiral steps to the Monument's observation gallery to enjoy unique and exhilarating views of the capital.
Major restoration work was completed in 2010, ensuring that The Monument has a new lease of life - sparkling and revitalized, come and enjoy it afresh.
Visit website
Show more information >
Attraction Savings
Savings:

£

Price after savings:

£
Map
Directions
Opening Times
FAQs
Map
Key:
Nearest Station
Local Attractions
Hotels
Theatre
Local or destination train station
{{$index+1}}

{{station.title}} {{station.distance | number:1}} miles
Directions
Fish Street Hill,
London
EC3R 8AH
Opening Times
Monday

09:30 - 17:00 (last admission)

Tuesday

09:30 - 17:00 (last admission)

Wednesday

09:30 - 17:00 (last admission)

Thursday

09:30 - 17:00 (last admission)

Friday

09:30 - 17:00 (last admission)

Saturday

09:30 - 17:00 (last admission)

Sunday

09:30 - 17:00 (last admission)
Opening times apply for 1 October to 31 March
Opening times 1 April - 30 September: Daily 09.30 - 17.30 (last admission)